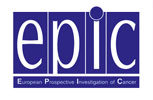 EPIC in the News
Mediterranean diet may cut stroke risk
Genetic risk factors of glaucoma identified
Physical activity in elderly reduces cardiovascular risk
Drinking coffee could reduce the risk of death
Dog walking increases physical activity in the elderly
Living in a poor area increases the risk of anxiety in women, but not in men
Marital transitions and associated changes in fruit and vegetable intake
Eating chocolate may reduce stroke risk
Replacing sugary drinks with water may cut diabetes risk
Sleep and stroke risk
Lack of exercise responsible for twice as many deaths as obesity
How safe is eating meat?
Daytime napping can raise the risk of a premature death by a third
Yogurt consumption can reduce the risk of getting type 2 diabetes
Women appear to sleep less than men, despite spending longer in bed
EPIC-Norfolk celebrates it's 20th Anniversary
Sabine Rohrmann discusses the link between eating processed meat and the risk of an early death
A daily consumption of soft drinks linked to increased diabetes risk
Excessive drinking and increased cancer risk
Pill 'lowers ovarian cancer risk'
Physical fitness could have a positive effect on eye health
British study may improve glaucoma assessment and treatment
Suzy Oakes obituary
Suzy Oakes was EPIC-Norfolk's first study co-ordinator (1991-2001)- she organised the recruitment and clinic protocols and overall running of the study - no small task. She also made a major contribution to the Europe wide EPIC collaboration. We are very saddened by her death on 31st July 2011 - she will be greatly missed.
U.K. Study Links Dietary Fat to Esophageal Cancer Risk
Drinking over recommended limit 'raises cancer risk'
Alcohol 'only protects non-smokers against stroke'
Drinking coffee 'may lower stroke risk'
Big breakfasters put on less weight
Healthy living 'can add 14 years'
Associated Press, January 2008
Managing stress cuts stroke risk
Findings due on diet links with cancer
Small changes add years to life
Red meat linked to risk of cancer
Diabetes linked to bowel Cancer
London (Reuters Health), June 2004
High fat diet linked to breast cancer
Channel 4 News, July 2003
Scotsman, July 2003
New York (Reuters Health), July 2003
Fibre decreases cancer risk
Daily Telegraph, May 2003
Oily fish 'could cut asthma risk'
Take it on: cutting the odds
Anglia TV programme on cancer, May 2002
An extra apple a day 'can cut cancer risk by a fifth'
Frequent eating lowers cholesterol
Smoking, drinkers '50 times more at risk from cancer'
Eating fruit halves the risk of an early death
Fighting heart disease with fruit
Watching TV raises risk of hip fractures
Death by chocolate
New Scientist, January 2001