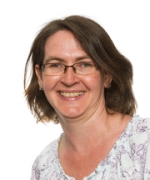 Angela currently works as a senior nutritionist, having joined the EPIC-Norfolk team in July 1994, after graduating from the University of Ulster at Coleraine, with a BSc (Hons) in Human Nutrition.
Over the years, she has gained extensive research experience involving the collection, entry and processing of dietary data, from 24-hour recalls, FFQs and 7-day diet diaries. She has contributed to the development of a data entry system for 7-day food diaries and 24-hour recalls (DINER) and the associated checking and calculation programs (DINERMO), gaining valuable experience in relational databases; planned, co-ordinated and led on the fieldwork of the EPIC-Norfolk calibration study, using the EPIC-SOFT computerised, interview-administered 24-hour dietary recall method; and advised on the creation of an open source data entry and processing tool for FFQ data (FETA), ensuring flexibility for use in other study populations. In addition, she has been responsible for the quality control of nutrient data, provided guidance for researchers using dietary data, and collaborated both internally and externally on a number of projects, including the in-filling of nutrient data.
Angela's current areas of interest include nutritional methods used within EPIC-Norfolk and how these may be improved and updated, investigating food and nutrient intake data over time using FFQ data, and changes in anthropometric measurements and mortality in EPIC-Norfolk.

Phone: 01223 748684
Fax: 01223 748676