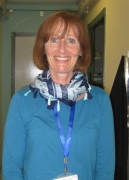 Angela trained as a nurse in Bolton, Greater Manchester, and worked for 18 months on Elderly care and Paediatric wards. She then moved to Hampshire where she commenced a post in Orthopaedics and was seconded to do Orthopaedic Nurse training. On return she ran an Orthopaedic/Fracture clinic for several years, where she developed skills in casting techniques and teaching /mentoring students.
Angela took a break from nursing while her daughter was young and worked as a classroom assistant in the village school. During this time she studied with the Open University, taking science courses predominantly in Biology and Chemistry, with a particular interest in Molecular and Cell Biology. It was during this time that her interest in research began. She graduated with BSc (Hons) in 2009.
After taking the Return to Practice course in 2010, Angela was fortunate in gaining a post in Orthopaedic Research at the Norfolk and Norwich Hospital, working as part of a team conducting a study into pain control following total knee replacement. This was followed by a study investigating the effect of Isothiocyanates, found in broccoli, on tissues of the knee joint. Both of these projects provided experience at all stages of research, from protocol development through to analysis and publication. She then continued in Orthopaedic Research, being involved in the set up and running of several multi-centre trauma and surgical studies, including the investigation of novel treatments for Orthopaedic conditions. She joined the EPIC team in July 2017.
Angela's interests include her allotment (sometimes taking surplus vegetables for the team!), ballet (both watching it and taking part in a class herself) and music.

Phone: 01603 776812