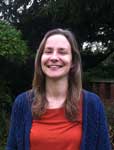 Carolyn joined EPIC in May 2015 as a Computer Associate in the informatics team. She is involved in data management activities and assists collaborators with requests for datasets.
Carolyn's background is in biological sciences, she has a PhD from the University of Edinburgh and before joining EPIC she worked in medical communications in the pharmaceutical industry.
Outside work Carolyn enjoys crochet and other crafts, reading, walking, cycling, and (if she's feeling energetic) running.
Carolyn has now moved to another department within the university.