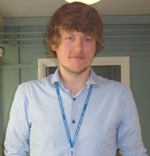 Daniel joined the EPIC Norfolk study in January 2014 as a Research Assistant for the EPIC Norfolk Fourth Health Check, based at the Norwich Community Hospital.
Daniel holds a BSc (Hons) in Nutrition and Human Health from University Campus Suffolk, and an MSc in Public Health Nutrition from the University of Westminster. For his MSc dissertation, Daniel undertook a research project to investigate the relationship between fish intake and a reduction in coronary heart disease mortality.
Following the completion of the Fourth Health Check, Daniel has continued to work on the EPIC Norfolk study as a Research Assistant for the Fifth Health Check.

Phone: 01603 776812