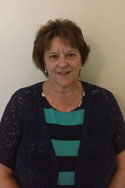 Joy has a long background working within nursing. She trained at the Norfolk and Norwich University Hospital and has worked across many disciplines within both hospital and clinic settings. She also spent 7 years working as a School Nurse and a number of years as an Occupational Health Nurse in industry, where she undertook her NEBOSH training enabling her to work closely with the Health and Safety aspects of the role.
Joy has also undertaken a number of research projects associated with Imperial College, London. She worked on 2 European projects, one studying Respiratory and Asthma (EARHS), followed by another looking at the monitoring of personal exposure to a number of pollutants in everyday life and their effects on the health of Individuals (EXPOSOMICS). A return to Occupational Health within the private sector came at the conclusion of these studies.
Joy has recently returned to the EPIC-Norfolk study following a 5-year absence. She previously worked on the 1HC, 2HC and 3HC and is currently employed as a Research Nurse working on the 5HC. She is based at the EPIC-Norfolk Research Unit in Norwich.
Joy's interests and hobbies include sailing, cycling, and Nordic walking and looking after 7 adorable grandchildren who take up most of her spare time (and money)!!

Phone: 01603 776812