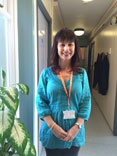 Karen spent the first few years of her nursing career working in a variety of specialities but primarily gastro-surgery. She has worked in a number of hospitals including The Royal Victoria and Ulster Hospitals in Belfast, The John Radcliffe and Churchill Hospitals, Oxford and The Prince of Wales Hospital in Randwick, Sydney. In 2005 she came back to her roots in Norwich to work as a Bank Nurse at the Norfolk and Norwich University Hospital. She moved into research purely by chance when she was asked to go to Norwich Community Hospital for a few shifts to help cover staff annual leave on the EPIC study. A few shifts turned into a few weeks and then 4 years on she was still there and thoroughly enjoying her new field of nursing in research.
During these 4 years from 2008 to 2011 she worked on the EPIC 3rd Health Check and was reluctant to leave when the 3HC came to an end and nurses were not needed for the planned 4th Health Check. She remained working in research however and returned to the Norfolk and Norwich Hospital to work on a variety of dermatology research studies. Another 4 years passed and then she had the opportunity to return to EPIC for the 5th Health Check and is enjoying working with the EPIC team once more.
Many moons ago Karen trained as a Cordon Bleu Cook at the Tante Marie School of Cookery in Surrey and cooked for a number of years in Directors' Dining Rooms in London and then had her own business travelling around the country cooking in shooting lodges, fishing lodges and for various dignitaries in their stately homes and London town houses. She still dabbles in the kitchen but nothing too strenuous or complicated. She now prefers to spend time with her 3 Cavalier King Charles Spaniels on beach and country walks and occasionally plays her saxophone (not at the same time!).

Phone: 01603 776812