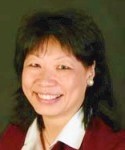 Kay-Tee Khaw is a principal investigator in EPIC-Norfolk. She first became interested in diet and health when investigating reasons for the rise in blood pressure and rapidly changing patterns of cardiovascular disease in different communities around the world, including Kenya and the Caribbean.
The wide geographic, social and secular variations in mos chronic diseases associated with aging including cardiovascular diseases, cancer and osteoporosis suggest a substantial proportion of disabling conditions are potentially preventable. EPIC-Norfolk aims to identify what we can do to maintain health in the population.
Kay-Tee trained in medicine at Girton College, Cambridge and St. Mary's Hospital, London and in epidemiology at the London School of Tropical Medicine and Hygiene, with subsequent clinical and academic posts in the University of London and the University of California San Diego. She is currently Professor of Clinical Gerontology in Cambridge and a Fellow of Gonville and Caius College, Cambridge.

Phone: 01223 336927
Fax: 01223 336928