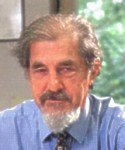 Professor Nick Day who originally established the EPIC-Norfolk study was its first principal investigator. The relationship between diet and cancer has been one of his main areas of interest for many years, starting when he worked on cancer of the oesophagus at the International Agency for Research on Cancer in Lyon and then later in China.
The need for prospective studies using better questionnaire and biochemical assessment of diet became increasingly clear as the inadequacy of most epidemiology in this area became more evident. With the other principal investigators, he saw that EPIC-Norfolk represented an opportunity unlikely to be repeated to study prospectively a wide range of disease-exposure relationships and the modifying effect of a person's genetic make-up. In parallel, the value would be greatly enhanced by bringing in collaboration across a wide range of disciplines.
Nick Day, now retired, was formally MRC research professor in Epidemiology, and co-director of the Strangeways Research Laboratory where the main EPIC-Norfolk team is based.