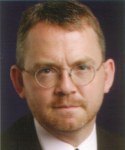 Nick Wareham is the newest Principal Investigator on the EPIC study. His research group investigates the genetic and environmental basis of type 2 diabetes and related metabolic disorders. Within EPIC, he has been particularly focused on the determinants of glycated haemoglobin levels, a critical marker of hyperglycaemia and a predictor of the risk of the microvascular and macrovascular complications of diabetes.
With colleagues in Medical Genetics (Todd) and Medicine (O'Rahilly) he is developing studies on the genetic epidemiology of diabetes. A particular focus within EPIC is the study of the interaction of these genetic factors with environmental influences (with Anne Helen Harding and others). Research by Nick and Jian'an Luan (Research Associate) along with Nick Day and Man-Yu Wong has shown the importance of precise measurement of these environmental factors if these interactions are to be determined. The enhanced measurement of physical activity within EPIC has been a key responsibility for Nick with the development and testing of the EPAQ2 questionnaire. This questionnaire collects disaggregated physical activity data allowing it to be reaggregated according to the key sub-dimension of activity that is of epidemiological interest. With Rupert Jakes, the high impact aspects of physical activity have been shown to relate to a marker of bone density.
Using data from EPIC and the Ely Study, a smaller cohort study within the Department of Public Health and Primary Care, he is also responsible for translating aetiological findings into action and is currently leading (with Simon Griffin and Ann Louise Kinmonth) an MRC prevention trial (ProActive) aimed at increasing physical activity in sedentary people at risk of the metabolic consequences of obesity and a Wellcome Trust funded trial of the cardiovascular benefits of screening and intensively treating Type 2 diabetes.

Phone: 01223 330315
Fax: 01223 330330 (attn: Nick Wareham)