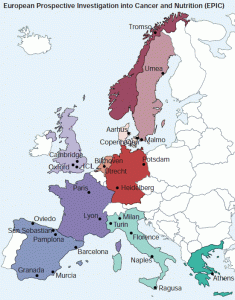 EPIC-Norfolk is part of the Europe-wide EPIC study, one of the largest cohort studies in the world, with more than half a million participants enrolled from 23 centres across ten European countries.
EPIC was designed to be a long-term study, following a large number of people over many years. Detailed information on diet, lifestyle characteristics, anthropometric measurements, and medical history were collected at recruitment in the 1990s, along with biological samples, stored in liquid nitrogen.
The design of EPIC allows the investigation of relationships between diet, nutritional status, lifestyle and environmental factors, and the incidence of cancer and other chronic diseases.
The EPIC study is jointly coordinated by Professor Elio Riboli at Imperial College London (ICL), United Kingdom, and Dr Marc Gunter and Dr Paul Brennan at the International Agency for Research on Cancer (IARC) in Lyon, France.
Detailed information on the different centres can be found on the EPIC study website.
---
Publications
The following publications cover the rationale and methods of the study:
Riboli E, Kaaks R. The EPIC project: rationale and study design. European Prospective Investigation into Cancer and Nutrition. International journal of epidemiology. 1997 Jan 1;26(suppl_1):S6.
Riboli E, Hunt KJ, Slimani N, Ferrari P, Norat T, Fahey M, Charrondiere UR, Hemon B, Casagrande C, Vignat J, Overvad K. European Prospective Investigation into Cancer and Nutrition (EPIC): study populations and data collection. Public health nutrition. 2002 Dec;5(6b):1113-2.