Professor Nick Day established the EPIC-Norfolk study and was its first principal investigator.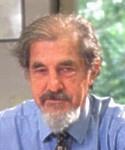 One of his main areas of interest was the relationship between diet and cancer. He studied cancer of the oesophagus at the International Agency for Research on Cancer (IARC) in France and then later in China.
The developing field of epidemiology highlighted the need for prospective studies with detailed questionnaire data and biochemical assessment of diet. He saw that EPIC-Norfolk represented an opportunity to prospectively study a wide range of disease-exposure relationships and the modifying effect of a person's genetic make-up.
Nick Day, now retired, was formally MRC research professor in Epidemiology, and co-director of the Strangeways Research Laboratory where the main EPIC-Norfolk team was based until 2018.